Christa, Stephen, Ethan, Caleb, and Wyndee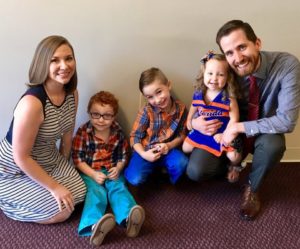 Birthdays
Don – May 19
Carla – July 4
Wedding Anniversary -> April 23
---
Carla and I were introduced to each other through one of Carla's cousins at a high school football game when I was a senior and Carla was a freshman. We were married and have lived most of our married life in Cobb County, GA. We have 2 children, our daughter Christa and our son Shawn.
Shawn was a New Year's baby so each year the world celebrates his birthday. He was saved and baptized at the age of 7. He has enjoyed playing the drums since he was in middle school and is very good at it. He is a nice looking young man and very intelligent also. He graduated with honors from high school and attended college his last year of high school in an honors dual-enrollment program. We are very proud of our son. Our first heartbreak was having to go to the field without him. Shawn was married on March 17, 2008 to a beautiful young lady named Rachel. We are proud to have her as our daughter-in-law. They now live and work in Georgia.
Christa was born on Grandparent's Day in the year she was born and has made 2 sets of grandparents very proud and happy. She accepted Christ as her Savior when she was 6 years old. She is a pretty, talented, and intelligent young lady. Christa has a beautiful singing voice. She spent her senior year of high school with us in Peru and graduated from Arthur G. Fetzer Memorial Academy, a Christian school for MKs (missionary kids) located just east of Lima. She graduated from Trinity Baptist College in Jacksonville, FL with a BS degree in Church Ministries on May 3, 2008. We are very proud of her and we know that God will use her in a mighty way. Christa was married to Stephen Sapp on November 28, 2009. Stephen is a full-time Assoctiate Pastor and Music Minister in Anniston, AL where they currently live. On Sept. 8, 2011 Christa gave birth to our first grandchild, Ethan. On October 25, 2012 she gave birth to our second, Caleb. Then, on February 4, 2015, our third grandchild and first grand daughter, Wyndee was born.
Carla is a wonderful mother and wife. She was born on the 4th of July in Tampa, FL. and is a big fan of red, white, and blue. Our living room in Georgia was filled with patriotic teddy bears, candle holders, and what-nots. Her parents moved the family to Marietta, GA when she was very young, so she has been in this area most of her life. She was raised in church and had professed to be a Christian since she was ten years old, but realized in 1995 that she had never accepted Christ as her Savior. She was saved and baptized at our home church in GA. She is an excellent cook, has a beautiful singing voice, and is an adventurous companion. I am privileged and thankful that God provided Carla as my lifelong companion.
As for myself, I was born in Austell, GA at a tiny clinic named after the family physician, Dr. Clark. I grew up locally except for 2 years when I lived on a farm my parents owned in Alabama. I asked Jesus to be my Savior in 1973, at the age of 14. I was ordained as a deacon in 1991. My background is in law enforcement. I worked as an officer in Cobb County, GA until having my knee shattered which kept me from continuing in active law enforcement. I became the database analyst for the county 911 system and was working there when I answered the call to preach in 1996. I surrendered to the call to preach at my home church, Calvary Baptist in Powder Springs, GA. where Bro. Snyder Turner is my pastor. I graduated from Liberty Bible Institute with a Graduate of Theology (Thg) in pastoral studies in 1999. I announced my calling to the mission field in June of 2001 and was ordained as a minister in January, 2002.