BIBLES NEEDED IN SOUTH AMERICA. Thanks for helping us get the "Word" out!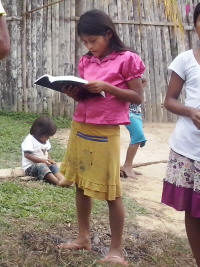 When we arrived in Peru in 2003 as missionaries, we had a desire to distribute Bibles in this country so that many would have the opportunity to read the "Good News" for themselves and understand the truth of God's Word. We did not know how we would do this nor that this vision would grow into a ministry to include several other countries. Victory Baptist Press, without their knowledge, was used by God to fulfill this vision and we are grateful to Him for the opportunity to serve in this way.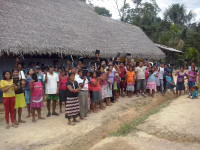 As many of you know, our ministry was chosen by Victory Baptist Press to be the distributors of the Spanish Bible in South America. In 2012, they were able to send us a container of over 23,000 Bibles. In just eighteen months, all of the Bibles were either delivered or promised. The final delivery was made to a jungle conference here in northern Peru to a group of fifty-three pastors where I preached, taught, and did open-air ministry. In most of their churches, the pastor is the only one to own a Bible.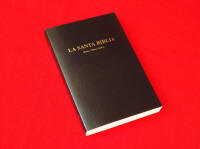 In shipping by bus, boat, truck, regular mail, or driving thousands of miles to deliver them, we have been able to get Bibles into at least seven countries here in South America. These include Peru, Ecuador, Columbia, Chile, Bolivia, Paraguay, and Argentina. They have been delivered to churches in jungle river villages, farming communities on the coast and in the Andes Mountains, from large country capitals to small cities and pueblos. We have now set up a distribution point in Chile where a fellow missionary is helping get the Bibles into the hands of those who need them in that country. This ministry has also been a blessing to guests who have visited us from the states. They have been able to take part in either loading or delivering Bibles themselves to areas on the coast and in the jungles of Peru.
By the use of conferences, emails, and word of mouth, our Bible distribution ministry has become well known. Although the first shipments of Bibles have been delivered, the need continues. I have a long list of pastors who are waiting on Bibles and the list grows weekly. In one area we have delivered over one thousand Bibles to river village churches. Grown men were crying as they received the first Bible they had ever held. The pastor who helped with the deliveries said that there is such a need that they could easily use 4000 more!
In January of 2014, we joined with Victory Baptist Press (VBP) in raising the funds to send us another container of 25,000 Bibles. The total cost for this shipment was around $58,000. The video below was created and sent out to present the need. In just 10 months, God provided all of the funds for this project! And, in just four and a half months, ALL of the Bibles were distributed! Then in 2017, we received a third container of 25,000 Bibles. They were all delivered in six months. BUT THE NEED CONTINUES!
The ministry of Victory Baptist Press has been faithfully printing and sending out Bibles, New Testaments, and John and Romans booklets to missionaries in foreign countries since 1984.
Only God knows how many souls have been saved, how many lives have been changed, and how many ministries have been blessed through their diligence to fulfill the calling that God has placed on their lives.
If you want to have a part in spreading His Word in these last days, here is your opportunity. Carla and I, along with many other missionaries, would like to ask you to prayerfully consider helping Victory Baptist Press print and supply the Word of God to a lost and dying world.
Your support can make an eternal difference in the lives of many in these last days. Who knows how many of these Bibles will be placed into the hands of future preachers and missionaries who will continue to reach many souls for Christ?
We would ask that you pray and inquire of God what He would impress on your heart to help out with this great need. Once He reveals it please send all tax-deductible donations to:
Bibles For South America, or just BFSA
PO Box 766
Milton, FL 32572.
If you have questions or would like for someone to come and present BFSA to your church, call Evangelist Jim Fellure at 850-384-4402 or email him at jfellure@biblesforsouthamerica.com.
* Please watch the included 9 minute video and consider showing it to your church or friends.
May God bless you who have a heart to see God's work advance through the distribution of His Word.
Don & Carla Rich