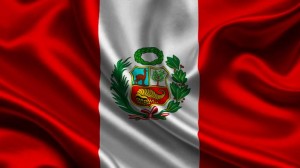 English – Español
What version of the Spanish Bible do I use?
As a missionary called of God to do a work for Him, I believe that it is my responsibility to find and use the best version of the Spanish Bible in the ministry with which God has entrusted me.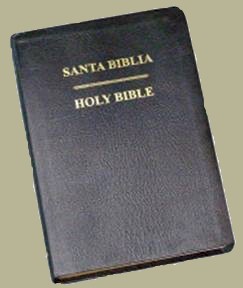 Before arriving in Peru in the year 2003, I found that there were problems in the most popular versions of the Spanish Bible. There had been words added, removed and changed. I read some books on the subject. I found that they were not pure studies of the changes to the text but were books that attacked the personalities involved in the defense of each version. I found them offensive to read. So, I decided to study for myself and leave out the opinions of others.
My opinion after studying different versions for several years:
I believe that the Reina Valera Gómez revision is the best version of the Spanish Bible that is available today. I believe the RVG is the closest to the original languages that are found in the Received Text and the Masoretic Text.
The Reina Valera Gómez is a revision of the 1909 version. This work was done to correct the problems that have been introduced by the use of critical texts.
I want to give thanks to God for both Casiodoro de Reina y Cipriano de Valera for their work in the translation of the Holy Bible over four hundred years ago into the Spanish language. The Bible of Casiodoro de Reina revised by Cipriano de Valera in 1602 is one of the most widely accepted editions among protestant religions.
To study a little of the history of Casiodoro de Reina y Cipriano de Valera I found something written that said "We don't know the first or last name of Casiodoro de Reina; we only know him by his professed friar name and his native land."
Little is known of the personal life of this man although he is placed in high esteem for his work for God. Actually, I think that it is better that part of his past is obscure. In this way we can concentrate on the Word of God and not in the faults of his character, if there were any.
Two sources that I read said that Cipriano de Valera not only knew John Calvin, but was his disciple and the translator of his works.
I am not a Calvinist, although I have no problem using the Bible corrected by a former disciple of John Calvin. Why? Because the Word of God that he revised was a good work.
How do I know? It is not because someone else said so. It is not because I have read several books on the matter. It is because I have personally studied it.
Matt 13:57 And they were offended in him. But Jesus said unto them, A prophet is not without honour, save in his own country, and in his own house.
What I want to show is that we don't know much of these two individuals. If we had known them personally as family or as close friends, it is possible that we wouldn't think of them with the same esteem that we do but we would still love their work.
It seems that we have more of a propensity to accept something of those that we don't know than of our contemporaries.
What is most important is that we see their work and verify for ourselves if it is good or not.
As I said, I have read various books and writings on the internet about different versions.
I have found persons who want to destroy their own testimonies by attacking the personalities involved in the revisions.
Brothers and sisters-in-Christ, this is neither God honoring nor correct.
A man of integrity will study a matter before deciding.
A man of integrity is not going to talk against his brother in the way that I have read.
We should continue our studies as it is written en Isaiah 28:10 "For precept must be upon precept, precept upon precept; line upon line, line upon line…"
I have heard several people say that another version/revision will divide the Christian community. This is possible, if we permit it among ourselves. Personally, I am not in a battle with anyone or group. I think that the RVG will stand on its own. We do not need to argue, only study the facts with an open heart. God will reveal the truth. I want to encourage each person to do their own study.
I believe that a new revision of the Bible should do at least four things:
1. Correct whatever problems that have been introduced in the former versions of the Word of God.
2. It should be in agreement with the Received Text in the New Testament and the Masoretic text in the Old Testament.
3. It should be in a form and language understandable by all.
4. It should be accepted on its own valor as being the Word of God.
If you like and want to use the RVG, fine. If not, we are still brothers.
Change is sometimes hard to accept. I am sure that when each of the former versions emerged (1865, 1909, 1960 and many others) there were those who did not want to change.
But, someone had the courage to study and change for the benefit of the Christian people. To make changes takes integrity. It takes men of God who are following God and the purity of His Word to make changes that can seem controversial.
It will take conviction to stand behind something that you believe but is not popular.
In South America, with the help of Victory Baptist Press in the USA, we are going to provide these bibles that pastors and missionaries need for their works. This is not for any financial gain. The Bibles that we will have will be free.
The Love Letter
Have you ever read something written by someone that you know and have felt that you could actually "hear them" while you were reading because they were writing it from their heart?
For me, to have the pure Word of God is like receiving a love letter from my wife… I want to hear her words exactly as she has written them.
Example: My wife wants to send me a letter that says:
My beloved, I love you. My heart, my arms and my eyes all miss you.
I can't wait until I can be in your presence and share our lives forever. I will arrive soon and prepare your favorite dish because I love you.
* Let's say that, after she wrote it, my wife gave the letter to a friend to send it to me. The friend read it and didn't like the way in which it was written or the words that my wife used.
The friend decides to change the letter to her own version to say it in the way that "she" likes it.
Her version: Donald, I have much affection for you. There are parts of me that miss you. I desire to be with you forever and share things throughout our lives. I am going to arrive soon and cook something good because you are my beloved.
The two versions sound more or less ok but the second wasn't what my wife wrote. Which of those do you think I want to read? Answer: "My wife's letter!"
Why? Because it was exactly what "she" wrote me and what SHE felt.
The Bible is our Love Letter sent to us by our loving God. '
The Bible is also our Warning Letter sent to us by our Righteous, Holy and Just God.
Example: I want the unbelievers to hear the warnings found in God's Word. They should understand that when they die without Christ, they are going to HELL, not a SEPULCHRE or a place called SEOL, HADES, or other name.
I want to read and learn exactly what He wants to say to me. I don't want someone else to change it. I want the pure words of God.
Rev 22:18 For I testify unto every man that heareth the words of the prophecy of this book, If any man shall add unto these things, God shall add unto him the plagues that are written in this book: 19 And if any man shall take away from the words of the book of this prophecy, God shall take away his part out of the book of life, and out of the holy city, and from the things which are written in this book.
There are some who would say that these words were only written concerning the book of Revelation. Therefore, we will compare scripture with scripture to find the truth.
Deut 4:2 Ye shall not add unto the word which I command you, neither shall ye diminish ought from it, that ye may keep the commandments of the LORD your God which I command you.
Matt 4:4 But he answered and said, It is written, Man shall not live by bread alone, but by every word that proceedeth out of the mouth of God.
To me, this is clearly saying that ALL of God's words are important and that we shouldn't leave out even one.
2 Tim 3:16 All scripture is given by inspiration of God, and is profitable for doctrine, for reproof, for correction, for instruction in righteousness:17 That the man of God may be perfect, throughly furnished unto all good works.
The word "perfect" has the significance of being complete, ready to fulfill his purpose.
So we see that we need all of God's words so that we will be ready to fulfill our purpose in our ministries.
Peru Bible Conference – 2011
In August, 2011 we hosted a Bible conference here in Cajamarca, Peru. There were more than two hundred persons in attendance. Several pastors and missionaries came to be shown the differences between the versions of the Spanish Bible. They saw the truth and now are in agreement that the RVG is the best version available. All of the Peruvian pastors asked for Bibles for their churches. We gave away more than 500 Bibles to the participants during the conference.
We had a good time of fellowship for the five days. We have received invitations to present other conferences so that others can hear and decide for themselves.
You can see the pictures of the conference here in our web site.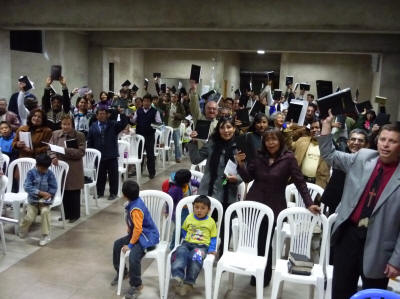 More Information Available

Spanish Bible and Hell by Shane Rice
Spanish Bible Verse Comparison by Rex Cobb
Here are a few links to learn more and/or to purchase the RVG Bible:
http://www.reinavaleragomez.com/
http://www.chick.com/catalog/spanishbibles.asp